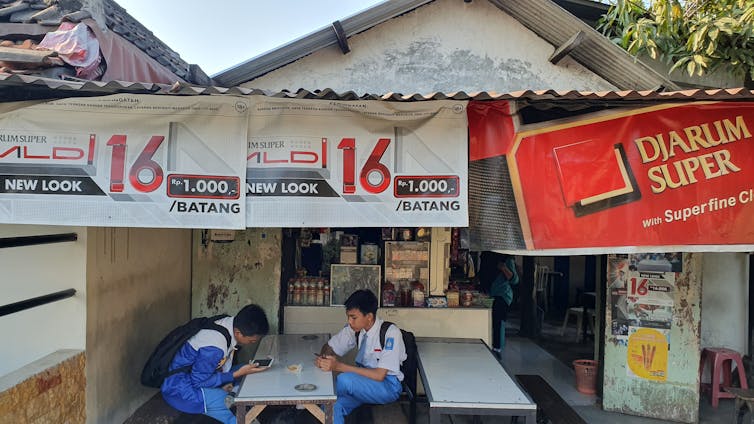 Ilham Akhsanu Ridlo, Universitas Airlangga; Dian Kusuma, Imperial College London, dan Hario Megatsari, Universitas Airlangga
Hampir sepertiga sekolah dasar dan menengah pertama di Kota Surabaya dikepung oleh ratusan iklan rokok luar ruang. Tanpa peraturan larangan iklan rokok di tepi jalan-jalan utama dan dekat sekolah, wajah Kota Pahlawan akan terus disesaki oleh promosi produk yang merusak kesehatan penduduk tersebut.
Riset terbaru kami membuktikan bahwa mudah sekali melihat dan menemukan iklan rokok di luar ruang di sekitar lembaga pendidikan, mulai dari sekolah dasar hingga universitas, di Kota Surabaya. Hampir 30% dari 1199 sekolah negeri dan swasta di kota ini masing-masing terpapar setidaknya oleh satu iklan rokok di lingkungannya. Sekitar 300 meter dari sekolah atau 10 menit dari sekolah, mudah ditemukan papan reklame rokok. Dua pertiga universitas juga "diserbu" oleh iklan tembakau di ruang terbuka.
Wali Kota Surabaya Tri Rismaharini mestinya lebih maju langkahnya dalam melindungi warganya dari paparan iklan tembakau, terutama anak-anak di sekolah, yang mungkin memandang rokok sebagai produk normal seperti teh kemasan. Padahal, jelas bahwa rokok adalah produk tidak normal dan berbahaya baik secara kesehatan, lingkungan, maupun ekonomi keluarga. Iklan rokok adalah cara industri tembakau untuk "menormalisasi" perilaku merokok dan menggaet perokok baru.
Walau Kota Surabaya mempunyai Peraturan Daerah Kawasan Tanpa Rokok (KTR) sejak 2008 dan diperbarui tahun ini, regulasi ini tidak melarang iklan rokok di luar ruangan. Melihat kepungan iklan rokok di kawasan sekolah tersebut, maka potensi adanya peningkatan perokok pemula perlu diperhatikan oleh pemerintah Kota Surabaya.
Perusahaan rokok bebas beriklan
Indonesia adalah salah satu kontributor utama jumlah perokok di dunia dengan lebih dari 60 juta perokok pada 2018. Riset Kesehatan Dasar 2018 menunjukkan prevalensi merokok di kalangan remaja (10-18 tahun) meningkat sebesar 1,9% (7,2% menjadi 9,1% selama 2013-2018).
Salah satu pemicunya adalah promosi yang agresif melalui iklan di luar ruang. Studi kami menjelaskan posisi geografis dan jarak pandang iklan rokok luar ruang di sekitar sekolah dan universitas di Kota Surabaya. Kami memakai analisis geospasial dengan radius 100 dan 300 meter dan hotspot analysis (daerah yang memiliki kepadatan iklan lebih tinggi).
Data lokasi iklan rokok ukuran besar dan sedang dikumpulkan pada Oktober-November 2018 dengan mensurvei 250 ruas jalan yang boleh dipasangi reklame seperti ditetapkan dalam Peraturan Wali Kota No. 70 Tahun 2010. Data geocode kami ambil dengan menggunakan aplikasi mobilephone dan dibantu dengan ArcMap 10.6.
Kami menemukan 307 iklan rokok di jalur-jalur tersebut yang meliputi billboard (63%), banner (31%), dan videoboard (7%). Sebagian besar iklan (89%) dimiliki oleh tiga perusahaan terbesar: PT. Djarum (38%) dan PT. Gudang Garam (24%) dan PT HM Sampoerna (Phillip Morris) (27%). Sisanya, 11 persen, milik PT. Bentoel International, PT. Wismilak, PT. Kayadibya Mahardika (Apache), PT Kolang Citra Abadi (Moden), dan PT. Nojorono Tobacco (Minak Djinggo/Class Mild).
Iklan tersebut dipasang di seluruh kota dengan beberapa terkonsentrasi secara strategis di bagian pusat kota (Surabaya tengah). Kami bandingankan data lokasi iklan itu dengan data lokasi sekolah dan universitas negeri dan swasta di kota ini.
Dari data ini tampak ada potensi paparan iklan rokok pada ratusan ribu anak-anak usia sekolah (ada sekitar 470 ribu siswa berusia 5-19 tahun di Kota Surabaya). Dalam hal intensitas iklan, ada 239 iklan rokok (78% dari total) berada dalam jarak 300 meter dan dapat ditempuh dengan berjalan kaki 10 menit dari sekolah. Iklan mereka paling banyak ditemui di lingkungan sekitar sekolah swasta dan sekolah dasar dan sekolah menengah. Dua pertiga universitas berada di dalam hotspot iklan rokok.
Tingginya visibilitas iklan rokok luar ruang di sekitar fasilitas pendidikan terjadi karena di kota ini tak ada larangan promosi rokok di ruang terbuka. Banyak dari promosi tersebut adalah papan iklan dan papan video besar, yang pesannya lebih mudah diingat orang muda.
Dari data tersebut tampak bahwa tiga perusahaan tembakau terbesar (Djarum, Gudang Garam, dan Sampoerna) memasarkan rokok secara agresif dan menarik, terutama kepada kaum muda. Semua ini mendorong citra merek yang ada dalam materi iklan dan meningkatkan potensi penggunaan tembakau di kalangan muda.
Hasil riset ini juga menunjukkan titik pusat (hotspot) iklan yang signifikan, terutama di daerah tengah kota yang terlihat lebih padat penduduknya dan lebih miskin. Ini dapat berkontribusi pada meningkatnya penggunaan tembakau di antara populasi yang lebih miskin, khususnya kaum muda.
Lemahnya pengendalian tembakau
Pemerintah Indonesia begitu lemah mengendalikan tembakau, termasuk tidak ada larangan iklan rokok di luar ruang secara nasional. Padahal, banyak negara telah memberlakukan larangan nasional terhadap iklan tembakau luar ruang termasuk Amerika Serikat (sejak 1998), Inggris (sejak 2003), dan Sri Lanka (sejak 2006).
Di tingkat daerah, beberapa kabupaten telah melarang iklan rokok di luar ruang tapi masih menemui kendala implementasi. Contohnya, Kabupaten Banyuwangi memberlakukan larangan iklan rokok di jalan utama dan arena olahraga pada 2016, tapi survei menemukan sekitar 1.300 iklan rokok setahun kemudian.
Riset kami bertujuan untuk memberikan bukti tentang visibilitas iklan rokok luar ruangan di sekitar fasilitas pendidikan di Kota Surabaya yang tidak memiliki peraturan larangan.
Hasil riset ini mendukung peran penting regulasi yang melarang iklan rokok luar ruang dalam mengurangi paparan pemasaran rokok, khususnya bagi kaum muda. Bukti ini seharusnya dapat mengingatkan pemerintah untuk melarang iklan tembakau luar ruangan.
Idealnya iklan rokok di luar ruang dilarang total untuk menghentikan tren peningkatan prevalensi merokok di kalangan kaum muda.
Belajar dari daerah lain
Saat ini, hanya sekitar 3% kabupaten dan kota di Indonesia yang memiliki beberapa peraturan untuk melarang iklan tembakau luar ruangan. Upaya terpadu harus dilakukan untuk meluaskan pelarangan iklan rokok di ruang terbuka ke 97% kabupaten lainnya.
Rujukan paling memadai larangan iklan rokok di ruang publik adalah DKI Jakarta (sejak 2015), Kota Bogor (sejak 2015) dan Kulonprogo (sejak 2014). Pengalaman daerah tanpa iklan di Indonesia tersebut dapat dijadikan acuan berbagai kota lainnya, bahwa iklan rokok bukan satu-satunya sumber Pendapatan Asli Daerah (PAD).
Roda pemerintahan daerah yang melarang iklan rokok di luar ruang itu tetap berjalan normal. Ruang iklan yang dulu dibeli oleh perusahaan rokok kini tergantikan oleh produk lain non-tembakau seperti telekomunikasi, aplikasi transportasi, perbankan, dan produk lainnya.
Dengan temuan riset ini, kami sangat berharap Wali Kota Surabaya Tri Rismaharini segera melarang total iklan rokok luar ruang untuk melindungi anak-anak dari paparan promosi rokok di Kota Pahlawan.

Ilham Akhsanu Ridlo, Lecturer in Department of Health Policy and Administration, Universitas Airlangga; Dian Kusuma, Research associate, Imperial College London, dan Hario Megatsari, Lecturer in Public Health, Universitas Airlangga
Artikel ini terbit pertama kali di The Conversation. Baca artikel sumber.